Home
»
Archive by category "Holiday Eating Tips"
Happy 4th of July and Happy Birthday USA Eat healthy today and don't forget to exercise! Video courtesy of www.nypole.com
Continue reading »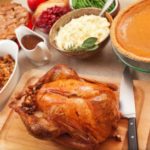 The holiday season is fast approaching and that means there will be lots of foods and desserts ready to be eaten, so here are a few simple tips for eating during the holidays with diabetes. Thanksgiving starts the holiday season eating frenzy with an abundant...
Continue reading »